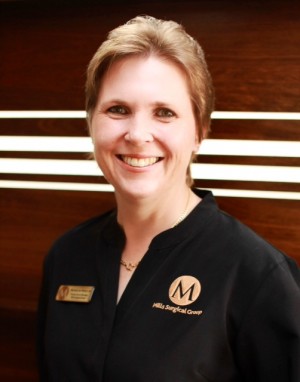 Michele De Matos
Practice Nurse Manager
Qualified as a Registered Nurse in South Africa, Michele started off her career as a District Health Nurse gaining a wealth of experience and specialising in wound care management. From there she spent the following 16 years working exclusively for a plastic and reconstructive surgeon as the practice nurse. In 2012 together with her family she moved to New Zealand where she spends her free time fishing, reading and enjoying the great outdoors.
Michele is currently continuing her love for plastic and reconstructive surgery as part of the Mills Surgical group where her kind, caring and professional manner is well suited to her position as practice manager.
Erin Mills
Mills Appearance Manager
Skincare Nurse
Erin is a Registered Nurse. She is passionate about skincare and keeps up to date with the latest in skincare science, regularly participating in specialised skincare and peel workshops.
Erin aims to provide her clients with the best advice in skin care and facial rejuvenation treatments, tailored to their specific needs such as ageing, pigmentation and problem skin.
She is very aware of the pressures and time restrictions of her patients, however understands their need to want to look their best.  A consultation will provide a skin care plan, prescribing a unique skin care system that is simple to follow and easy to commit to and offering a combination of facial rejuvenation treatments with 'no down time'.
Erin also runs a Peels Clinic and works alongside her husband   Dr Stephen Mills, who provides facial rejuvenation through Botox and Fillers.
We pride ourselves in our ability to offer a unique specialist service dedicated to treating your individual needs.
For more information on Botox & Fillers and Skincare please click.
Please phone Michele our practise manager on 09 5754749 to book in for your skincare or injectables appointment.
If you have any questions please don't hesitate to Contact Us.